Planning a cocktail party?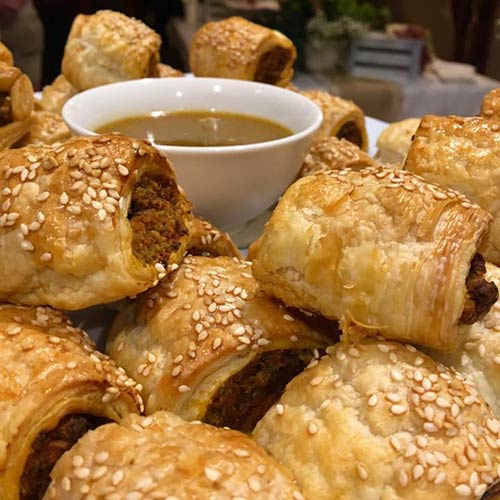 If you are planning a cocktail party we understand how important it is to have the right cuisine to complement those specialty drinks.
Browse our specially developed menu suggestions for delicious hors d'ouevres and sweet items that are just right for your event.
Why not make an appointment to speak to Lianne or David about some special touches that will make this event a talking point among your guests.
When Sprouts cater for you, we bring to your event a unique skill set: An excellent standard of catering; delivered heat-and-serve cuisine created personally by our two five-star chefs; all beautifully presented.
Contact Us
May we suggest you browse the following menus
Date: Do I need to make a tentative booking with Sprouts or should I confirm my booking date with Sprouts?
Food: Discuss menu options, special food and event requirements with Sprouts and obtain my no-obligation free Sprouts Function Quotation. Do I want to pick up my food or have it delivered by Sprouts?
Sprouts Function Quotation: Does the quotation cover everything that I want from Sprouts? Are there any new details or updates to add?
Venue: Can I accommodate the number of my guests?
Back-Up Venue: What if the weather changes?
Space: Will my guests have enough space to be seated comfortably? What if my numbers increase considerably?
Kitchen: Is there adequate heating equipment and bench space for final preparation and plattering of food? Do I need to hire heating equipment or trestle tables through Sprouts?
Staff: Will I have the right amount of people to heat and serve meals? Do I want Sprouts to organise the staff for my event? Please Note: There is a minimum of 2 staff per event, regardless of guest numbers to cover work, health and safety regulations.
Hire: Should I discuss hiring options with Sprouts? Is my oven reliable enough to cater for my numbers?
Personalising: Do I want Sprouts to use my own dishes and platters or specialty serviettes?
Confirmation: Confirm my Function Quotation. Make sure that everything I want Sprouts to do is on the Function Quotation. If I want staff from Sprouts, confirm this. Have I recieved my deposit invoice to pay?
7 days to go: Confirm my final guest number with Sprouts. Contact Sprouts with any updated/new details including dietary requirements. Arrange final balance to be paid once the balance invoice is received.
The big day: What time am I due to pick up my food from Sprouts? Tell Sprouts where I will leave their platters and equipment if necessary. Contact Sprouts ASAP if there are any last minute dietary, delivery or time changes.
The day after: Make sure that all equipment is rinsed and/or left at the nominated location or returned to the Sprouts kitchen in Narellan.
For further information refer to the Menus and Services pages.